NEC
Unified
Communications
(UC)
Suite
–
How
to
Send
an
Instant
Message
Using the NEC Unified Communications (UC) Suite that is integrated with the NEC Univerge SV9100 Telephone Communications Solution
The instant message tool can be great for one on one conversation, or letting someone know they have a call or a visitor.
Please note: To send an instant message both parties will need to have their Unified Communications Suite up and running.
• There are two ways to send an instant message:
Option One:
• First, Right click on the employee you wish to message
• Choose Instant message from the list of options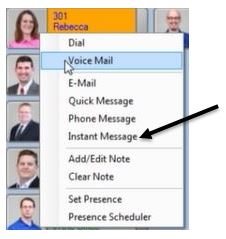 • Type out message and press enter when you are ready to send
• When your co-worker starts to respond it will say something like "Rebecca is Typing." Shortly after you should receive their response.
Option Two:
• To send an instant message the alternate way:
• You can Instant Message by clicking the IM icon in the top of the tool bar

• Select from the list of the available employees
• Type your message and press Enter to send
Watch the video demo below for more instruction: