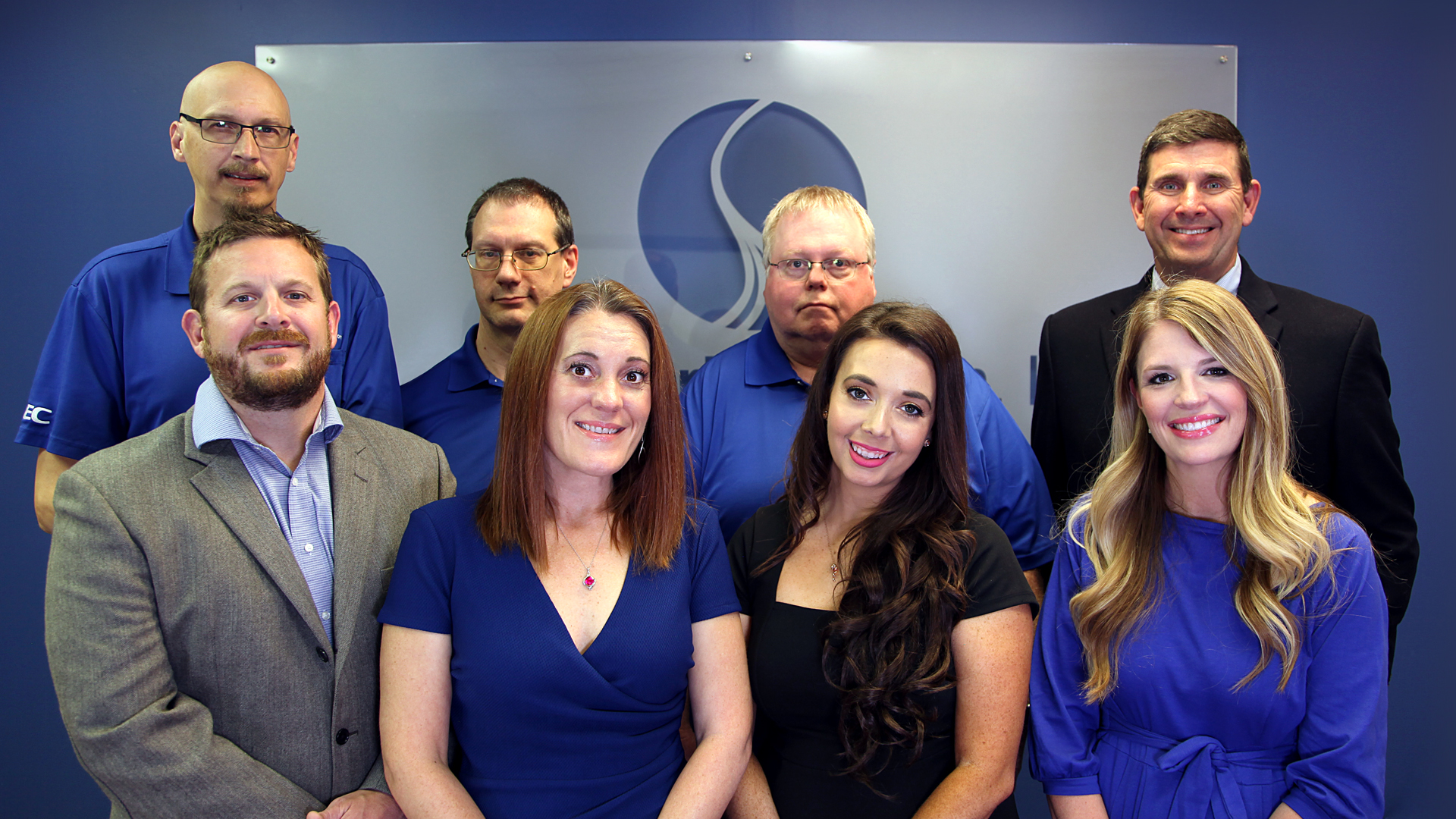 ServiceMark Telecom was founded in 1995 by local entrepreneur and philanthropist Larry Stewart, telecommunications veteran Bruce Gibbs, and technical guru Marty Granaman. Larry, Bruce and
Marty nurtured a culture within ServiceMark of always putting the customer first, providing a great place to work and giving back to the community. Building that culture is how ServiceMark became recognized as the number one NEC telephone system provider in the Kansas City region.
ServiceMark's Core Business - NEC Business Phone Systems
At ServiceMark, we are not advocates of technology for technology's sake; we embrace technology that can be deployed in a meaningful way for our customers. In the early 2000's, ServiceMark began adapting to its customers' future needs when it became evident that telecommunications and IT were converging, first by recruiting additional employees with extensive IT backgrounds and then cross-training the entire technical staff beyond the NEC brand of telephone systems to include VoIP solutions, unified communications and data networks.
ServiceMark has since grown its core competency beyond basic telephony to design reliable and cost-effective data networks that support voice and data for small, single-location companies as well as large, multi-location enterprises. Examples of deployed solutions range from NEC's "bulletproof" on-premises SV9100s and Univerge 3C, an enterprise-level platform, to NEC's next-generation cloud solutions, Univerge Blue CONNECT and ENGAGE.
ServiceMark Provides Local Phone Systems Service Backed by NEC International Juggernaut
Behind ServiceMark's local expertise and technical certifications is NEC, a global company with a legacy of innovation going back more than 120 years, with annual revenues of $30 billion. Periodically throughout the company's history, we considered other manufacturers' solutions, but doing so would have compromised our ability to be the best at installing and servicing the NEC brand. That loyalty to NEC has lasted for 25 years and is what made ServiceMark the only "Double Diamond" NEC Associate in Greater Kansas City, which is a result of total annual sales and ServiceMark's commitment to ongoing technical training and certifications.
Other notable awards include:
2014: International NEC Sales, Marketing and Leadership Award (North and South America) in
Community Service, Marketing Innovation and Effectiveness, and Increase in NEC Market
Share


2019: first recipient of the NEC Global Awards for Customer Care
Business Phone System Experts - The ServiceMark Team
Bruce Gibbs, Co-founder and President
Bruce co-founded ServiceMark in 1995 alongside Larry and Marty; a lifetime resident of the Kansas City community, he has worked in the Kansas City telecommunications industry since 1981.
Business Phone System Planning
Shelby Doumitt, Director of Operations and Project Manager
A native resident of the Kansas City area, Shelby attended the University of Central Missouri before transferring and graduating from the University of North Texas. She is a gifted administrator who has been employed with ServiceMark for over 10 years. Shelby is responsible for "blueprinting" your phone system's implementation, from documenting the installation and programming details to scripting automated attendant and voicemail prompts. This level of detailed planning enables ServiceMark's technical team to deploy the system according to your expectations, and serves as the basis for end-user training guides and system administrator documentation.

Business Phone System Installation
Marty Granaman, Co-founder and Vice President of Technical Services
Marty has worked in the telecommunications industry since 1986 and is the technical arm that launched ServiceMark in 1995. Marty will be responsible for managing the technicians programming and testing your system throughout the installation process.
Patrick Stone, Network Administrator, CTI Specialist and Certified NEC Technician
Pat joined the ServiceMark team in 2007 as a network administrator, but also maintains current telephone system certifications. Patrick grew up in Jefferson City, Missouri and earned his Masters Degree in Mechanical Engineering from the University of Missouri.
Dave Johnson, Certified Senior NEC Technician
Dave Johnson has been a technician with ServiceMark Telecom for more than 20 years. He brings a variety of knowledge and experience to the technical team and also shines in the area of customer service.
Ryan Maxwell, Sales Engineer and Certified NEC Technician
Ryan Maxwell joined ServiceMark Telecom in 2004. He is a lifetime resident of the Kansas City community and has been active in the Information Technology industry since 1999. Ryan will be responsible for collaborating with your IT Vendor to oversee the installation or necessary modifications to your data network infrastructure.

Business Phone System Training and Support
Jenny Schroeder, Trainer & Provisioning Coordinator of Carrier Services
Jenny studied Film and Performing Arts in Los Angeles, California. In 2014 she rejoined her roots in the heart of Kansas City where she grew up, joining the ServiceMark Telecom team in 2015. Jenny's aptitude and interest in technology, combined with her acting experience and natural bubbly personality, make her a natural choice for providing our customers with highly tailored training and documentation for end users and system administrators.
Rebecca Tittle, Accounting and Operations Support
Rebecca Tittle is another life-long Kansas City area resident. She joined ServiceMark Telecom in 2013 and quickly became an invaluable asset, not only as operations support that includes accounting and bookkeeping but also as an incredible customer service person. Many customers refer to Rebecca as their "best friend!"
If data wiring is required for the project, the following people will be a part of your project:
Brian Gwin, Structured Cabling Manager
Brian has been in the cabling installation industry since starting in 1994 as an installer; he now oversees the installation department. He ensures that your project follows the practices outlined by current cabling installation standards.
Tom Campbell, Structured Cabling Operations Manager, RCDD
Tom has over 25 years in the industry and is responsible for the successful completion of all projects, from project scheduling and coordination and materials procurement to the supervision of the installation. Additionally, Tom has recently been awarded the status as a BICSI Registered Communications Distribution Designer (RCDD), which is the highest achievement in the cabling industry.
To gain further insight about our implementation process, please contact us by e-mail or phone 816-478-2000.
We service Cloud Based Business Phone System Solutions globally.
Our Local Service Area for on-site installs includes:
Missouri:
Belton
Grandview
Liberty
Pleasant Valley
Blue Springs
Harrisonville
Lone Jack
Raymore
Buckner
Independence
Oak Grove
Raytown
Excelsior Springs
Kansas City, MO
Odessa
Riverside
Gladstone
Kearney
Platte City
Smithville
Grain Valley
Lee's Summit
Pleasant Hill
Sugar Creek
Kansas:
Basehor
Lansing
Louisburg
Overland Park
Bonner Springs
Lawrence
Merriam
Paola
Desoto
Leavenworth
Mission
Roeland Park
Fairway
Leawood
Olathe
Shawnee
Kansas City, KS
Lenexa
Ottawa
Spring Hill