ServiceMark Makes WORKING WITH Voice and Data CarrierS Simple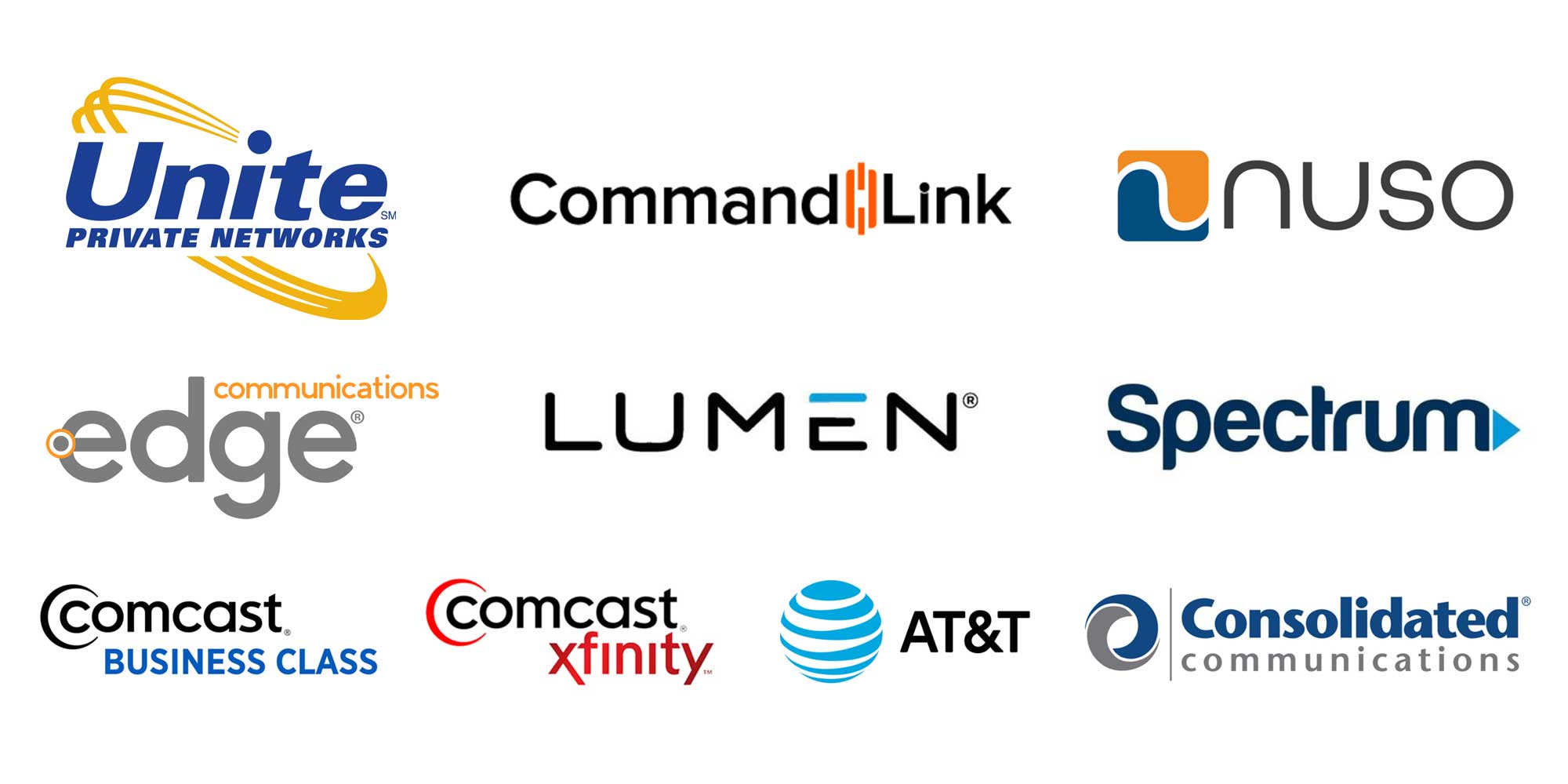 ServiceMark Telecom Works With Top Phone Service Providers
Finding the right service provider for your voice and data needs doesn't have to be a stressful experience, or one that leaves your scratching your head. ServiceMark will help your business choose the right provider that will deliver reliable service based on the size, operating requirements, bandwidth needs and connection type availability in your business' location. Making sure your business has the right type of phone service in place will ensure you have a rock-solid foundation in place to successfully communicate with your staff and clients.
Preferred Data and Voice Carriers
ServiceMark Telecom is a master agent for most carriers. Our expert staff works with most carriers nationwide. This gives our team the ability to provide a broad scope of phone service solution options and recommend what is the best fit for your business.
UPN (Unite Private Networks) is an ideal provider that offers high level customer service and mission critical bandwidth options. They are also experts in cable installation.
Command Link is a leader in SD-WAN and provide robust security, and unified communications options.
NUSO
Edge Communications
Lumen formerly Century Link, a great carrier option for small towns or rural areas
Spectrum
Comcast Business
Comcast Xfinity
AT&T
Consolidated Communications
ServiceMark Works Directly with Voice and Data Service Providers so Our Clients Don't Have To
In recent years Spectrum and Comcast have become much more reliable when it comes to internet service that can support both VoIP phone service and data services, Both providers may be a great fit for cloud-based customers who are on a budget. If you're a smaller operation and you know exactly what your phone system bandwidth needs are, either of these providers may be a great option for your business.

Unfortunately working with these types of large phone/internet service providers can often be a frustrating experience. They often lack the one-on-one, expert customer service your business deserves. ServiceMark's Team removes these frustrations for by working directly with large providers on your business' behalf. We know the questions to ask and can get questions answered and problems solved quickly and efficiently. Don't waste time sitting on hold for hours or waiting for service call backs. Let ServiceMark's Voice and Data Carrier Consulting Services take the frustration out of managing phone/internet service provider issues.
Avoid Large Carrier Customer Support Frustration - Speak Directly with Your Dedicated ServiceMark Communications Expert Instead
Get the information you need quickly by speaking directly with a ServiceMark Communications Expert. No more run arounds dealing with large carrier customer support and automated customer service call routing. Stop wasting your valuable time! ServiceMark makes working with large carriers time efficient and frustration free. We work directly with data and voice carriers, so you don't have to.

ServiceMark's Communication Experts will troubleshoot service issues directly with your service provider(s). We make carriers accountable for any issues that they are responsible for. We support troubleshooting on your behalf, every step of the way. From documenting the details of issues, to submitting support tickets and helping carriers troublshoot issues…we work diligently on behalf of our clients until problems are solved.
ServiceMark's Voice and Data Carrier Expertise
For over 27 years ServiceMark Telecom has been a trusted local business phone systems provider and resource for medium to large scale businesses in the Kansas City Metro area. We pride ourselves in setting the highest industry standards, we adapt to and implement the latest communication technologies. Every project installation we take on receives the same level of knowledge and expertise, from start to finish and beyond.
As one of the area's leaders in telecommunication solutions we understand how difficult it can be to choose the right voice and data carrier to fit the unique and growing needs of your business. Perhaps you're just starting out and need a phone system built from the ground up, or maybe you have been in business for many years and its time to upgrade your phone system to take advantage of modern communication features and functionality. No matter what your needs are, ServiceMark's Team will guide you every step of the way, designing communication solutions that meet and exceed your expectations.
If you're business is growing or changing, and you need to scale up service, ServiceMark can help you explore options and alternatives. Helping you make wise and economical decisions that will support your expanding operations and your growing client base.
ServiceMark helps companies do business...better!
Schedule a FREE Consultation - We'll Break Down Your Current Service Provider Expenses and Provide Recommendations
Let ServiceMark review your current voice and data carrier invoices at no cost to you. We look forward to the opportunity to evaluate the services included in your current plan(s) and the costs associated with each service. We'll make *recommendations that may help lower your carrier costs, improve reliability and increase efficiency.
*Technician labor may be required, if so ServiceMark will advise.
Fill out the form to the right to request a FREE Consultation
or give us a call: 816-478-2000