Work-from-Home
Business
Phone
Systems
and
Communication
Solutions

It is understandable why most businesses put work-from home/remote workforce planning on the back burner prior to 2020. Successfully deploying, productive, remote work-from-home options for employees takes a lot of forethought, planning, reliable and abundant home/remote bandwidth, and highly reliable technology solutions.
The first quarter of January 2020 delivered a real wake-up call with the COVID-19 pandemic blindsiding businesses of all shapes and sizes worldwide. Normal day-to-day, in-office business operations and face-to-face customer relationships were instantly turned upside down once social distancing and stay-at-home orders were mandated. Businesses who were not equipped with remote workforce solutions found it very difficult to support their employees with reliable, well tested, work-from-home options. The inability to be nimble and adapt to unforeseen circumstances caused many businesses to have to furlough or let go valued workers and ultimately close shop temporarily or in some unfortunate cases permanently. Those companies that were able to rapidly transition their employee's and day-to-day workflow processes to remote platforms appreciate, more than ever, the remote workplace technology they set in place.
ServiceMark Telecom, a leader in communication technology for businesses and organizations in the Kansas City area, began deploying work-from-home/remote workforce solutions prior to 2014. As a result of already having this flexibility in place ServiceMark was able to deploy work-from-home technology for 100% of its employees a full two weeks prior to 2020's mandatory COVID-19 stay-at-home orders being announced.
Having well planned and tested remote workforce technology in place gave our company the ability to continue to connect, support and provide training to our customers without any disruption due to the unforeseen pandemic. Likewise, for customers equipped with the same technology provided by ServiceMark, the ability for them to adapt quickly, switching from brick and mortar office communications to remote workforce communications, has resulted in less loss of revenue and employees were able to keep their jobs.
The importance of work-from-home technology
the servicemark story
Prior to 2014, ServiceMark designed and deployed its first remote workforce solution to give its own employees the flexibility and benefit of working from home or another off-site location if needed. ServiceMark quickly realized that the company, as a whole, would benefit from remote workforce capabilities because it allowed employees to be productive outside of the office during early morning hours to tackle complex projects and/or customer needs, and continue to productively work from home throughout the business day.
Even before the 2020 COVID-19 global epidemic drove the desperate need for work-from-home technology there were countless other situations that prevented employees from making it into the office. Sick children, inclement weather, vehicle breakdowns, elderly care, ongoing illness, kids home from school; all issues that can dissuade the commute to work for even the most dedicated of employees. ServiceMark found that offering its employees the flexibility to work from home enhanced overall employer/employee trust, company morale, productivity, and customer service. Work from home options allow employees to work through both minor inconveniences, as well as significant life changes. Work from home flexibility also allowed the company to retain valuable employees that moved their residence further from the office.
A good example of work-from-home success was illustrated when one of ServiceMark's valued senior employees became a new mother and requested the flexibility to work from home. Unlike other businesses, who often force their valued employees to choose between their personal and professional aspirations, ServiceMark jumped at the chance to support her with its remote workplace technology. The results were astounding and led to additional highly successful employee work-from-home cases. ServiceMark discovered that by offering employees the trust and flexibility to do their jobs from home that they often outperformed all expectations!
By late 2019, over half of ServiceMark's employees were set-up with fully functional work from home offices, including high end office extensions deployed as either VoIP desk phones or "soft phones", same number of computer monitors as they have in the office building, and printers/scanners if they are essential for their daily business operations. For years, many ServiceMark employees worked remotely as part of their weekly routine. When the 2020 COVID-19 pandemic stay-at-home quarantine orders were executed, ServiceMark was more than prepared and ready to shift 100% of its office operations to employee home workstations. Additionally, for those ServiceMark customers who also already had remote workforce solutions in place ServiceMark was able to assist them with making the same quick transition to 100% remote workplace functionality.
Servicemark design's and deploys reliable work-from-home solutions
With over 25 years in the industry, ServiceMark Telecom is a solution provider and partner for all companies who are wanting the flexibility, convenience, and options that "reliable" remote workforce capabilities provide. The word "reliable" is key when it comes to designing and deploying this technology throughout your business. It takes upfront planning, a thoughtful assessment of long-term business needs and thorough testing of signal/connectivity strength and quality.
We know that every business operation is unique and that there is not a single system of communication that fits every client's needs. ServiceMark's team of experts can ramp your business up quickly with the right phone system and remote workplace solution for daily business operations, employees, and customers. Let it also be said that it is a misconception that a business must be enterprise level to afford the flexibility and benefits that ServiceMark's NEC Phone Systems and Unified Communications solutions provide.
ServiceMark is at the very pinnacle of communication technology.
ServiceMark Telecom's NEC Unified Communications (UC) platform provides features and functionality that is at the core of robust, reliable remote/work-from-home capabilities. Unified Communications merges telecommunications and computer technology into a revolutionary office tool that always keeps your workforce virtually connected.
Unified Communications (UC Suite) Desktop Features:
Employees can simply click to dial out and reach other team members or customers in their contact lists directly from their UC desktop application dashboard
Chat (Instant Message) feature that allows team members to instant message each other directly inside of the UC dashboard.
Virtual Cubicles for all co-workers which provides real-time status of each person for example:
• Picture of co-worker
• Name/ext. number of co-worker
• Indication if they are on/off their phone
• Presence status such as…
o In the Office
o Out to Lunch
o In a Meeting
o In Virtual Office
o Out of Office
UC's virtual cubicle feature also permits staff the ability to quickly check on the status of another team member (in the office, out of the office, and promptly communicate with each other via chat screens)
Intercom plus Instant Message (IM) which provides effective collaboration between employees working both in and out of the office
Mobile Extension extends office phone functionality to cell phones
UC allows mobile employees to work in their remote work from home office, so they don't appear to be displaced from the office environment.
Voice mail messages appear as emails. Users can easily see the name and telephone number in the email subject line and click on an audio attachment to listen to a voice mail message from a computer or smart phone.
Employers can also use UC to supervise employees. With the click of a button, they can check employee status and get productivity reports as needed. This allows supervisors the chance to assist their work-from-home or in-office team in times of need as well as identify any potential productivity issues and help address them appropriately.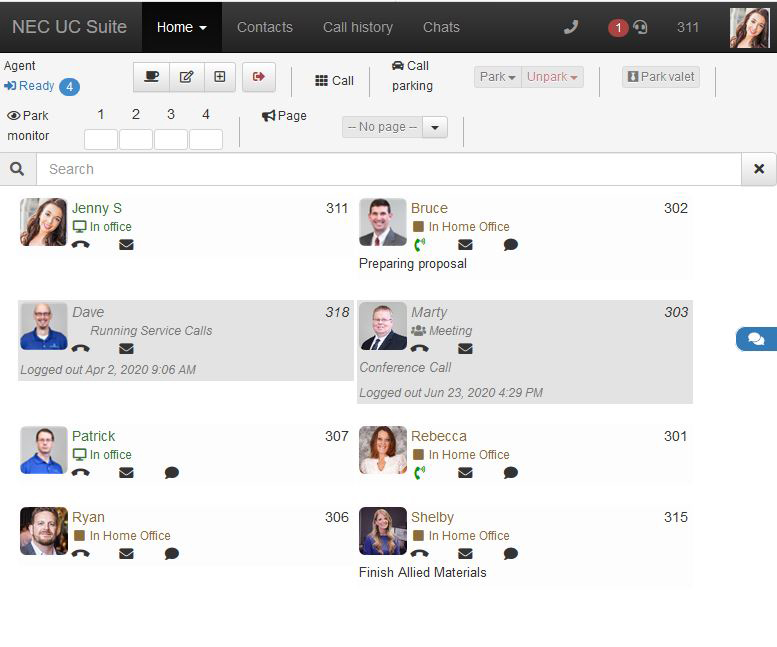 Full Featured Business Phone Extensions in Remote Work from Home Office
All the high-end functionality of a business phone can be deployed as a VoIP desk phone at home
The high-end functionality of a business phone can also be deployed as software that resides on the employees' computer or smart phone.
An employees' office extension "moves" from the office building to the home office at the touch of a couple of buttons or mouse clicks.
Servicemark Telecom Provides Expert, Dependable Service - The Kind Kansas City Businesses Deserve and Expect

The ServiceMark team provides expert installation, dependable service, support, maintenance, software upgrades and ongoing training to its customers.
Our state-of-the-art NEC products and services include:
The team at ServiceMark Telecom strives to establish solid, trusted, long-term relationships with its customers. It's this drive that makes ServiceMark the #1 Business Phone Systems Provider in Kansas City.
Simple, Straight Forward Financing for Remote, Work-from-Home Technology for Business

ServiceMark Telecom makes it easy for business owners to stay equipped with the latest work-from-home technology with easy and flexible financing options through Mid Continent Capital, a local equipment financing company in the Kansas City area that has provided convenient financing for our customers for well over 20 years.

ServiceMark helps to make upgrades and new installs cost effective. Install remote workplace, work-from-home technology now, enjoy flexibility and peace of mind long-term.