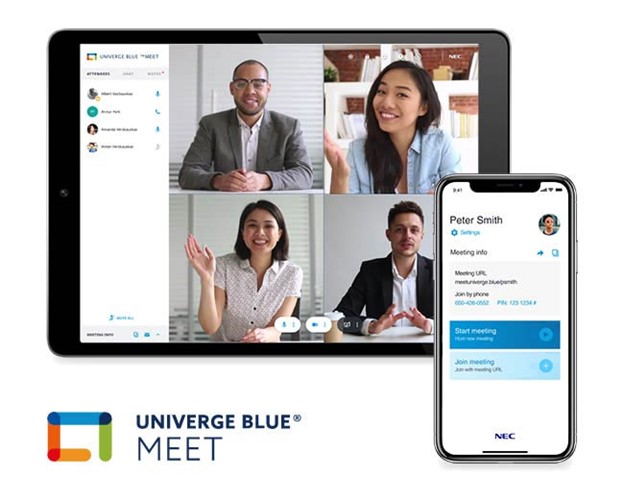 Cloud-Based Audio and Video Collaboration
NEC's Univerge Blue Meet provides interactive communications for your business and your customers. Its flexible features allow you to spin up virtual meetings anywhere, anytime and with anyone. Integrated audio, video and screen sharing are baked into Univerge Blue Meet in addition to workforce productivity tools in-meeting chat.
Univerge Blue Meet can be used in a Google Chrome browser or users can download the desktop app. You can create custom meeting URLs and PIN numbers as many times as you would like.
Starting a meeting in Univerge Blue Meet is very easy, it only takes two clicks from the meeting dashboard:
• Click 'Start a Meeting Now'
• Enter a Title
• Invite attendees by entering their email addresses
• Alternatively, you can simply send them
• your Meeting URL via email or external IM
• Click 'Start Now'
Scheduling Meetings is also a snap:
• Use your existing calendar, such as Outlook or Gmail to schedule meetings. This will give you access to your contact list, availability information and more.
• Use the Univerge Blue Meet Dashboard to schedule a single meeting in advance, recurring meetings in advance, or instantly start ad-hoc meetings.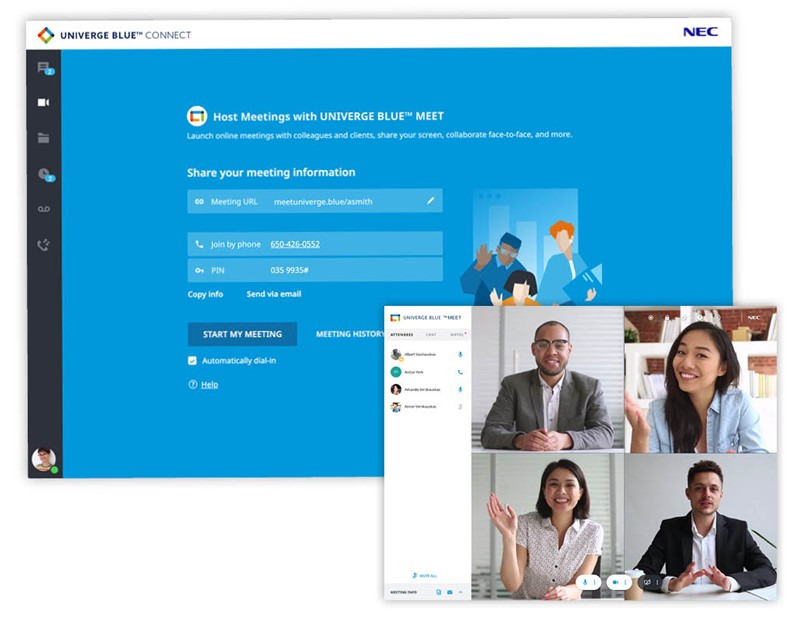 NEC's Univerge Blue Meet delivers engaging experience for all users. It improves team collaboration, streamlines workflows and helps expedite decision-making which in turn improves day-to-day workplace efficiency and productivity.
Additional Features of Univerge Blue Meet:
• Multi-party HD video conferencing display enables viewing of meeting participants.
• Users receive their very own personal video conferencing accounts.
• You can scale your meeting size from 2 to 100 attendees.
• Record your meetings and play them back anytime from anywhere (this is a great feature for individuals who can't attend the live meeting but want to catch up later by watching the recording).
• Automated Transcribing of meetings. Like a 'Virtual Personal Asssitant" Univ erge Blue Meet's Artificial Intelligence (AI) will take accurate meeting notes for you.
• Documents can be shared virtually during meetings.
• Urgent, impromptu, or sensitive meetings are supported with "meet-me invite" and personalized URL invitations.
• One-click meeting add-ins for Microsoft® Outlook® and other calendar applications make for quick and simple scheduling of single or serial meetings.
• AES encryption ensures conversations and shared materials and information remain secure.
Ready to Take Your Business to the Next Level with Everything Your Organization Needs to Stay Productive?
ServiceMark is ready to help you make the leap to Univerge Blue Meet if it's the right fit for your business. We have developed a Total Cost of Ownership tool, which compares multiple solutions, and calculates the total cost of ownership over 3, 5, 7, and 10 years.
Businesses can call ServiceMark at 816-478-2000 or request a no-cost business phone system consultation by submitting the form on the right. We look forward to hearing from you!
View all NEC Univerge Blue Cloud-Based Phone System Services…