What
Our
Clients
Have
to
Say
About
Us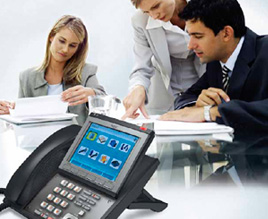 ServiceMark's clients share reviews on our services and products...
When the Blue Springs School District made the decision to upgrade out communications system to VoIP technology we researched several companies. ServiceMark came in with the best proposal that met our requirements, needs and was cost efficient. With 26 buildings throughout our district and the need to install approximately 1500 phones ServiceMark's plan met and exceeded our objectives of communication features, redundancy, ease of transition/implementation, return on investment, etc. Also, I can't say enough about their project management team on how professional, knowledgeable, and friendly they were.

Working with ServiceMark on this size of project was truly one of the best experiences that I have been involved with. Their flexibility in working around construction and school schedules was fantastic. Their support in the installation, implementation, and training for our communication system has been very responsive, making the entire process painless. I look forward to our continued relationship with ServiceMark in the future maintenance and upgrades to our system.
- Kirk Sampson
Blue Springs School District