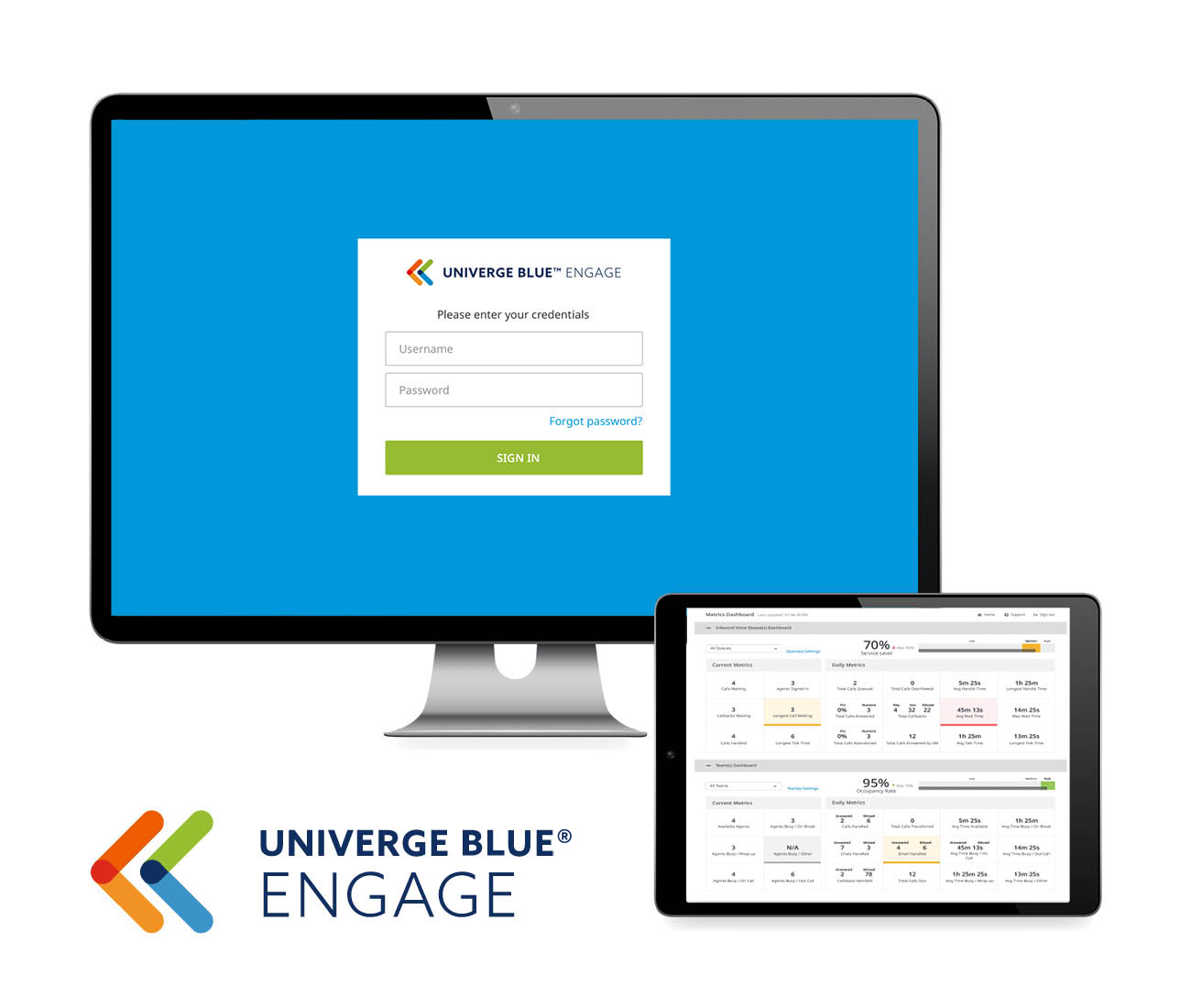 Cloud-Based Contact center services
NEC's Univerge Blue Engage helps businesses improve handling of and insights into their communication processes. This is accomplished with a broad range of innovative agent and supervisor contact center services.
Univerge Blue Engage Makes Contact Centers More Responsive:
• Highly flexible solutions that make it easy to deploy contact center services for remote/at home workers.
• Features that are scalable, so services can support small call-centric teams as well as large multi-channel teams.
• Streamlining of incoming inquiries from multiple channels, services use smart routing and deliver content to agents for optimal customer experience.
• Reduced response time, improved service quality and better caller and agent experiences.
• Compatibility with most CRM, ERP systems and collaborative apps ensure easy adoption and minimizes disruptions for users.
Our Cloud-Based Contact Centers Increase User Control:
Real-time monitoring and permission-based activity reports provide insights for and transparency to agent and contact center performance.

• Contact Center monitoring includes phone, email, and chat activity.
• More accurate reporting of call center analysis.
• Call reports can be customized and filtered by skill set, group provisioning, and agent profile.
• Multimedia recordings can be stored for easy, permission-based online retrieval by agents.
• The ability to customize agent status help to deliver better insights that help make fielding of interactions more efficient.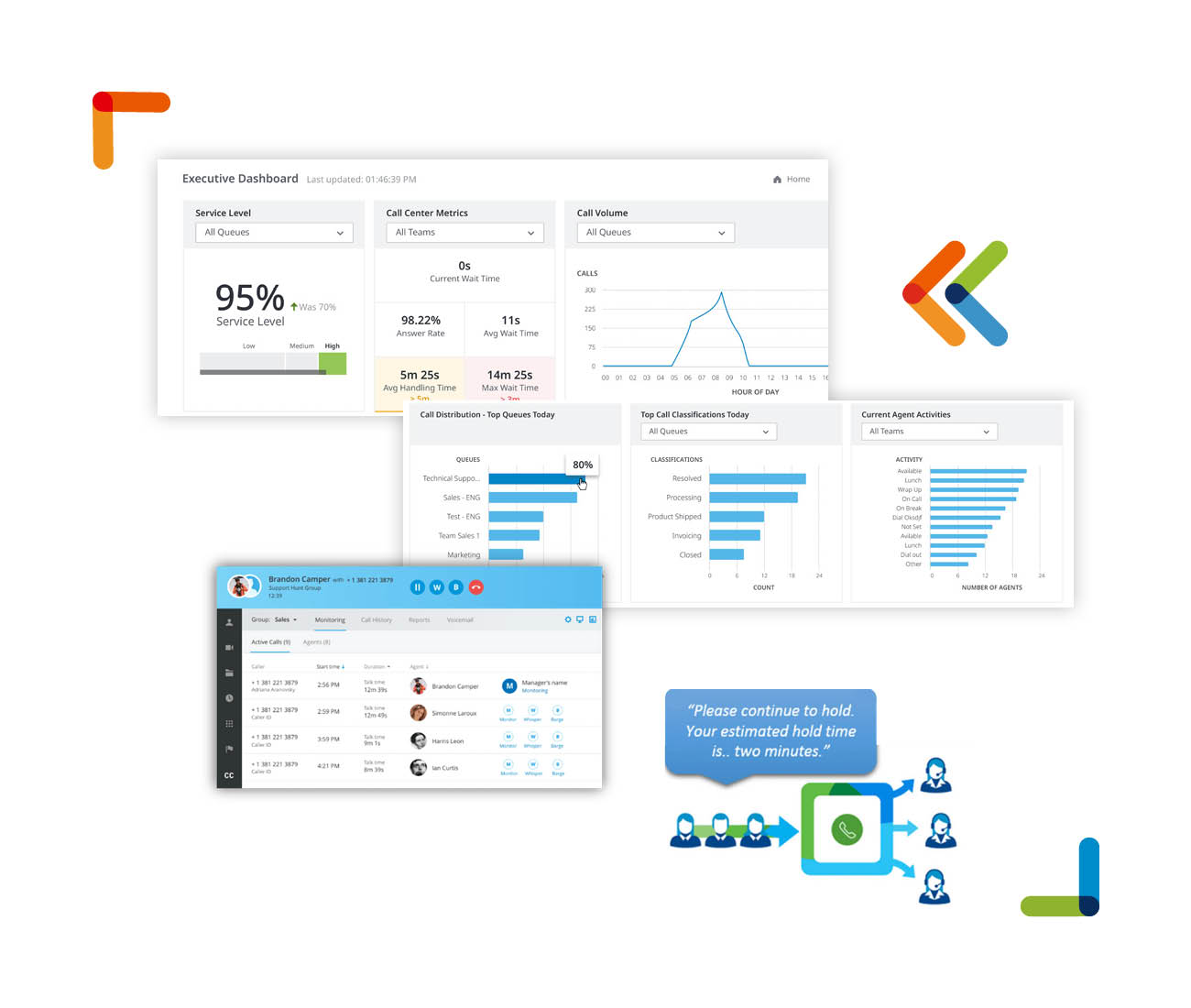 NEC's Univerge Blue Engage uses advanced skill-based routing and automatic call distribution (ACD), so callers are immediately directed to the next available and most knowledgable agent available.
Efficient Call Handling Features of Univerge Blue Engage:
• Multi-channel options like chat and e-mail take the conversation beyond just voice, making the resolution of calls faster and succesful.
• Desktop and browser versions of customizable agent apps that easily integrate with standard CRM platforms and other popular business apps, resulting in intuitive access information and resources.
• Configure agent-client interface for specific requirements and frequent caller requests.
• Answer calls via a built-in smartphone application, traditional desktop telephone, or VoIP connection.
• Agents can receive feedback on their performance, helping them to improve their skills and customer satisfaction.
• Customer feedback can be automatically and immediately captured following the customers interaction with the agent.
• Agent scheduling capabilities ensure staffing is always ready to meet customer contact center demand.
NEC's Univerge Blue Engage provides businesses with feature rich services that streamline caller experience and ensure that service and staffing are sustainable.
Univerge Blue Engage Features Include:
• Automatic call distribution that can be synchronized based on function, region, time of day, organization or industry type.
• Programmable voice prompts that gives a callers the ability to self-manage their call, retrieve the information they need, reach a specific department or individual, and contact an agent when they need assisstance. The easy interactive voice response (IVR) wizard makes set up super simple!
• Convenient silent mode, phone and web-based conversation prompts give supervisors a simple way to monitor their agents' activity and performance, ensuring customers are receiving the quality service they deserve.
• Secure widget-based dashboard views provide real-time reporting, creating total transparency.
• Two-way conversation tools extend contact center reach while still respecting audience preferences.
Empower Your Workforce Even More with NEC's Univerge Blue Connect + Engage improve employee efficiency and design superior customer experiences by utilizing the advanced call features that the combined power of CONNECT + ENGAGE provide.
Univerge Blue Connect + Engage Unlocks MORE:
• Access to advanced call handling in Connect gives agents the ability to manage customers and quickly get back to collaborating with peers when done.
• Greater Flexibility gives Connect users access to call queues without having to switch to a different application.
• Unified Communications provides visibility to other users/agents handling customer calls. This lets users/agents see who's available to chat, talk, and meet while on calls.
• Advanced customer call handling capabilities are baked into Connect: dialout, automatic scheduled dialout campaigns, inbound voice interactions, callbacks, relevant caller information, and call classifications.
UNIVERGE BLUE CONNECT + ENGAGE Unified Application Demo Video
Ready to Move Your Contact Center to the Cloud and Improve Customer Experience?
ServiceMark is ready to help you make the leap to Univerge Blue Engage if it's the right fit for your business. We have developed a Total Cost of Ownership tool, which compares multiple solutions, and calculates the total cost of ownership over 3, 5, 7, and 10 years.
Businesses can call ServiceMark at 816-478-2000 or request a no-cost business phone system consultation by submitting the form on the right. We look forward to hearing from you!
View all NEC Univerge Blue Cloud-Based Phone System Services…