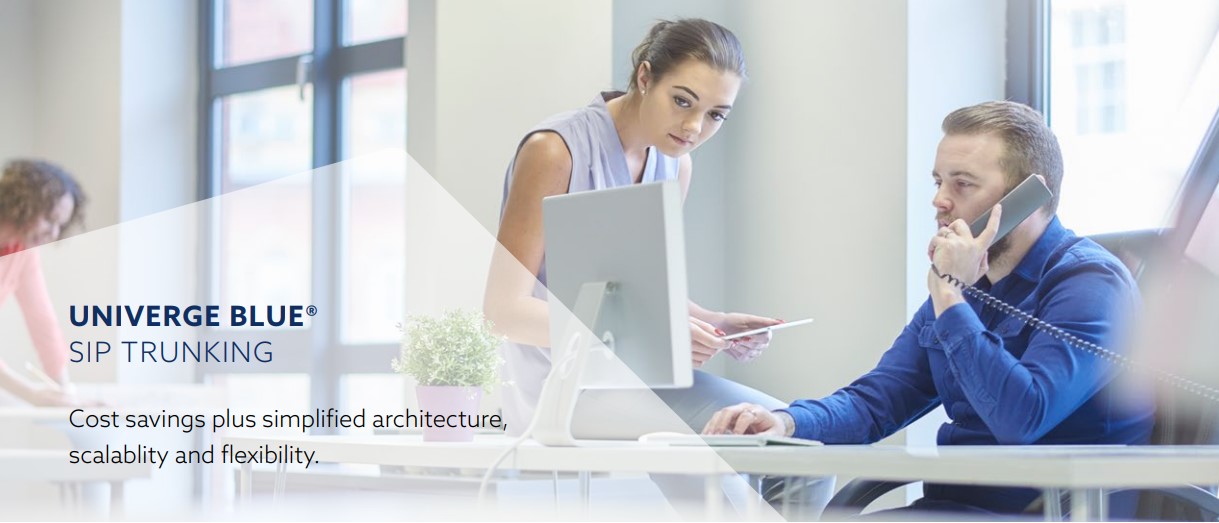 UNIVERGE BLUE SIP TRUNKING
Savvy business owners are constantly looking for ways to cut their IT costs while also improving the quality of their communications and network. With Session Initiation Protocol (SIP) standard and SIP trunking, businesses can eliminate costly hard-wired Public Switch Telephone Network (PSTN) trunk connections and gateway. Voice and data are combined on a single line which enables businesses to optimize bandwidth and improve quality of service.
Improved performance...Univerge Blue SIP Trunking uses VoIP (Voice ove Internet Protocol) and streaming media to deliver full featured unified communications.
• SIP Trunking is a flexible, efficient, low-cost alternative to traditional gateways and telephone lines.
• Service is delivered over an affordable broadband connection.
• Centralized tools give businesses streamlined control over their communications network.
• A single platform for both voice and data helps to optimize bandwidth and improve quality of service.
NEC's Univerge Blue SIP Trunking is a Cost-effective Upgrade:
Eliminate the cost of hard-wire PSTN (Public Switch Telephone Network) trunk connections and gateway.
• Add new digital phone lines quickly and efficiently when your business needs to scale up.
• Enjoy cost savings as compared to what you pay for traditional PSTN line.
• A quick return on investing in Univerge Blue SIP Trunking makes the decision to upgrade and easy one!
• Feature rich: Continue to use integrated traditional phone services you are used to but with additional innovative cloud-based features.
• Provisioned main phone number that is registered with local Public Safety Answering, allows caller ID information to be displayed for your business.
• 911 enabled using Point (PSAP)
The Key Advantages of Univerge Blue SIP Trunking:
Avoid over-provisioning, deploy only what is required and leave channels open so that your business can rapidly expand or reduce provisioning on-demand.

• Manage SIP Trunks from anywhere at anytime, all you need is internet acess so you can login to your management portal.
• Easily set rules to reroute calls when you need to, ensuring you don't miss calls.
• Scalability and flexibility gives you control over quickly adjusting system requirements to handle greater call volume
• NO Overage Charges: Unlimited local and continental long distance is baked into Univerge Blue SIP Trunking.|
• Choose your path for outbound communications by price, enable the routing of international calls through the least expensive service provider.
• Handle 911 calls quickly with the ability to send caller ID information, for your provisioned main number, registered with the local PSAP.
NEC's Univerge Blue Provides Greater Capacity:
ServiceMark's simple and comprehensive upfront system testing provides information on a business's existing broadband connectivity. If additional bandwidth is required to ensure superior call quality and to support unified communications features the ServiceMark team will assist your business with implementing improved internet bandwidth.
• Each SIP Trunk (call path) can support one phone call.
• The number of SIP Trunks a business needs depends on the maximum number of concurrent phone calls that may occur per location.
Ready to Upgrade to Cost Saving Univerge Blue SIP Trunking?

ServiceMark is ready to help you make the transition. We have developed a Total Cost of Ownership tool, which compares multiple solutions, and calculates the total cost of ownership over 3, 5, 7, and 10 years.
Businesses can call ServiceMark at 816-478-2000 or request a no-cost business phone system consultation by submitting the form on the right. We look forward to hearing from you!
View all NEC Univerge Blue Cloud-Based Phone System Services…